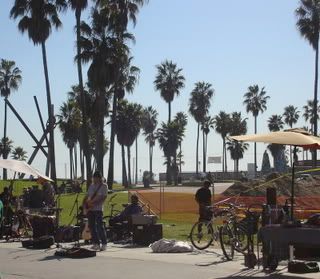 So KK and I have been complaining about not having art work for our new apartments. We've shopped and shopped and everything is wayyy out of our price range. At some point, we came up the idea of going to Venice to look for some pieces, and felt good about giving our money to artists that are on the grind rather than bigger companies like Z-Gallery, who charge way too much for slightly above ordinary print remakes. We wound up purchasing art from three different artists:
Artist Joel Batz; myspace.com/joelbatz; mainly worked with portraits on wood canvas, painting mostly abstract and negatives of veteran music and show biz artists. What drew us to his work were some of his Miles Davis and Dizzy Gillespie portraits, where he created great dimensions, with his use of shadowing and highlights (the type of work where from far away the picture is really clear but up close, slightly more abstract).
Artist Mitch Reiter; myspace.com/mitchreiter ; angelswillrize@gmail.com ; He demonstrated a great use of photography art, using paint, spray etc... His paintings and photographs were mostly of cars, old broken down busses, parts of venice, and ironic tag lines he'd photographed throughout parts of the city, that someone may have tagged onto the side of a building.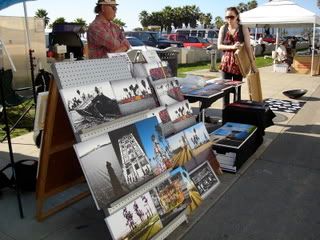 Artist Yoshi Hashimoto ; www.peace22st.com; Yoshi used a lot of color accents over black and whites of Venice beach. What we loved about his work was the sort of grittiness he brought to his photos, in contrast with his use of color (or lack of). He also created a lot of depth within his photos by blurring out most of what surrounded his focal point. He owns a studio downtown- mostly photography. He is also promoting a peace campaign/free tibet project in addition to his art.
And this post wouldn't be complete without the crew that passed us by throughout the day: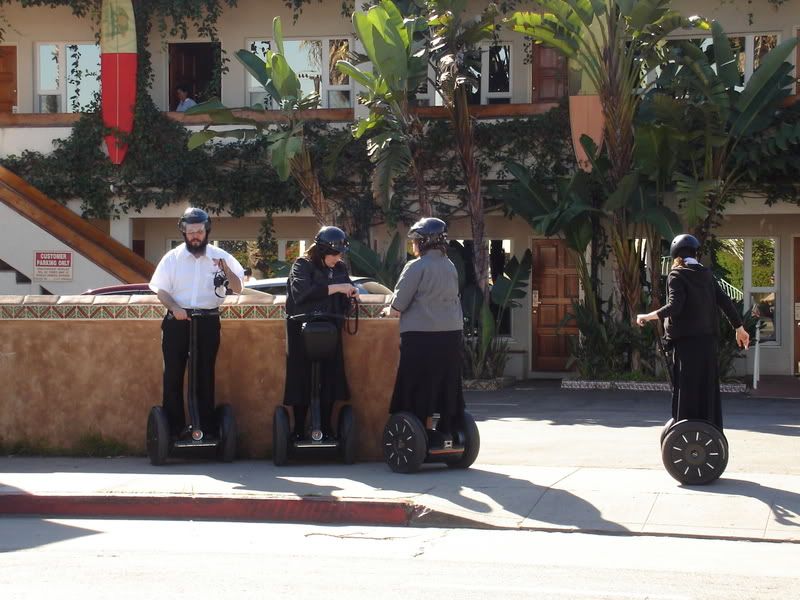 xoxo linds ~~ L dub