I have never been a fan of Beyonce's fashion efforts-- as a matter of fact I find them horendous.. Some might say that's going a bit far, but in her recent attempts for winning the elegance and 'high fashion' challenge, both within her own dress choice, and her line "House of Dereon", might I throw up quickly...bluughhh..okay I'm back, she's achieved tacky and lost class altogether. Here is her recent oscar 09 red carpet dress: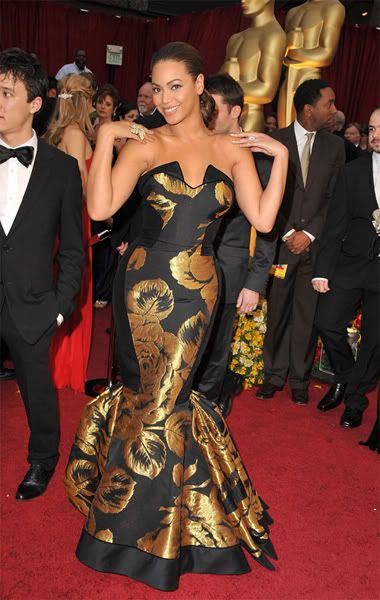 Please stop with the affreux prints and the overdone hourglass dresses. You look like a guetto mermaid.
I wanted to close with these wise words from a comedian from the VH1 show 'Black to the Future'
"If I love you, then I should put a ring on it; If I like you, then I just wanna hit."
Touche my n*gga touche
So quit looking for new leotards for every video for 2009 and find fashion.
xoxo Linds~ aka L Dub