Recently, there's been a relatively large amount of speculation in regards to Justin and Trace's new clothing line. Though 'William Rast', a compilation of the twos' grandfathers' last names, debuted in late 2006, it's recent launch in NY's 2009 fashion week and much anticipated arrival into local stores, has had me anxious to see the product.
After channel surfing the other night and coming across a cover story, I was reminded to check it out. And sadly to say, I am a little disappointed. You can be the judge. But while Justin sometimes displays a simple swagger, it's a swagger nonetheless that raised my expectations to a whole 'nother level, in the same way I'd feel if Mrs. Beckham released a line----- I suppose, just a little too high.
His line of women's jackets seem to be the most appealing out of the line, though after reading more about 'William Rast', he's more heavily applauded for his denim line over anything else. The combination of bad t-shirts, simple vests, three hats and one belt, makes it hard for me to want to like anything. It's all very "Okay I've seen that". I'm all for quality- there's a definite difference between a vest from forever 21 and that of Theory, but at the same time, if the vest from forever looks, and feels far more interesting, no one has to know where you bought it, and for how much. Fashion is all about creating your own clothing art-- spelling out your character through your pieces; even if its for $20, as opposed to $200.
I picked out two jackets I thought stood out most from the line- I feel it's pointless to show jeans seeing as how it's all about the fit on YOU, not the model, and certainly not the manniquin. I also didn't put any tops on simply because a few were vests we've all seen, without any full ensemble zest put to them, and the others looked like a compilation between bad prince ruffles, trying to come off seemingly simple, and faux emo tees that actually look like my sister took a water color paintbrush, dipped in black, and made a picture on the side of a white tee. I dunno guys, maybe I don't get it. Let me know by visiting the site: www.williamrast.com
Meanwhile, here are the picks (and by picks I mean my picks- not pics... haha)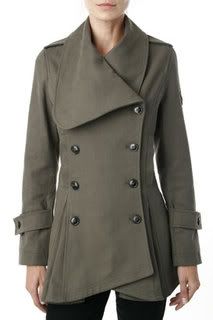 Here is the coat without the belt priced at $407.00- cute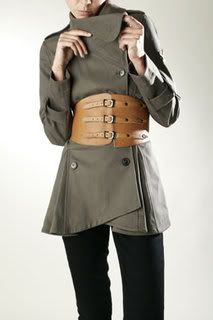 Here it is with the belt; Belt priced at $209.00 for a grand total of $616.00 (much more interesting with the belt don't you think??? but 2 hun for a belt? I think we could find an even better one at a flea market)
Gray- off teal leather jacket priced at $548.00- I think it's actually pretty cute..but again- could we do better?
I guess we can always do better- I just don't get how someone with so much pizazz came up with a line this simple..maybe Trace is to blame;)
xo
Linds~ aka L dub